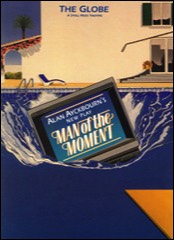 To navigate, use the links in the bar above or in the right hand column.


World Premiere:
10 August 1988

Venue:
Stephen Joseph Theatre In The Round, Scarborough

London Premiere:
14 February 1990

Venue:
Globe Theatre, London


Play Number:
35

Published:
Samuel French
,
Faber
Other Media:
Radio


Short Synopsis:
A satirical attack on the media obsession with celebrity centring on the reunion of a have-a-go hero and the bank robber - now a media celebrity - he tackled during a heist.


Availability
Amateur:
Apply to
Concord Theatricals
.

Professional:
Apply to
Casarotto Ramsay
.


Man of the Moment
quote

"So, don't take this wrong, but I was hoping this - meeting - might help to exorcise you. If you follow me. I told you it would sound peculiar."
All research and original material in the Man of the Moment section of Alan Ayckbourn's Official Website is by Simon Murgatroyd M.A. and copyright of Haydonning Ltd. All other material is copyright of the named copyright holder. Please do not reproduce any material without permission of the copyright holder. For enquiries, email: archive@alanayckbourn.net